This sponsored post is written by me on behalf of Lowe's. Thank you for supporting the brands that make Tried and Tasty possible, as always, all opinions are my own.
Switching things up today for something very fun & out of the ordinary for Tried and Tasty. Getting a little personal on the blog to talk some exciting news! Steve and I have been renting a house for the last five years and while we love it, we're anxious to get our hands on something that's ours. We are currently in the very, very, VERY early stages of looking into buying a house! How fun right? So early that right now we are deciding on preliminaries like where we will live? What we want in the house? What are we looking for in a yard? Of course you can imagine that the kitchen is pretty high priority. Go figure right?
Because we spend SO much time in the kitchen we're really paying close attention to certain details that are lacking in our current place. I.e. counter space, storage, and cabinets. At the same time we don't want to break the bank. That's where Lowe's comes in! I've chosen a handful of specific kitchen looks I can actually afford and wanted to share them with you.
As 2017 kicks off, consumers are looking for ways to create a healthier, happier lifestyle – starting at home. Lowe's has everything you need to get started from trend-forward products to project specialists in-store ready to help with design, all at an affordable price.
Let's get started shall we? Perusing through Lowe's Instagram I found four kitchens that I pulled inspiration from. Let me walk you through exactly what jumped out at me in each:
CABINETRY
Over the years as I've become a more serious food blogger one thing that I quickly grew out of in our current kitchen is cabinet space. I'm constantly collecting all sorts of dishes, pots, pans, and everything else in between. We're looking for plenty of space to house everything in the kitchen so that I don't have to go running all over the house for odds and ends (like I have to currently).
DISHWASHER
All my life I've washed dishes by hand. In our house now we have a dishwasher but unfortunately it doesn't work. In fact, the last time we tried to use it was the day before heading on vacation and it ended up flooding the kitchen floor! Talk about a nightmare you don't want to have to deal with when you're heading out of town right? A must have in the home we buy is a high quality dishwasher FOR SURE!
BARN DOORS
I have been a fan of barn doors for as long as I can remember. Years ago when Pinterest first started I made a Pinterest board of things I'd like to have someday in my future home. Barn doors were one of the recurring things I'd find myself falling in love with over and over again.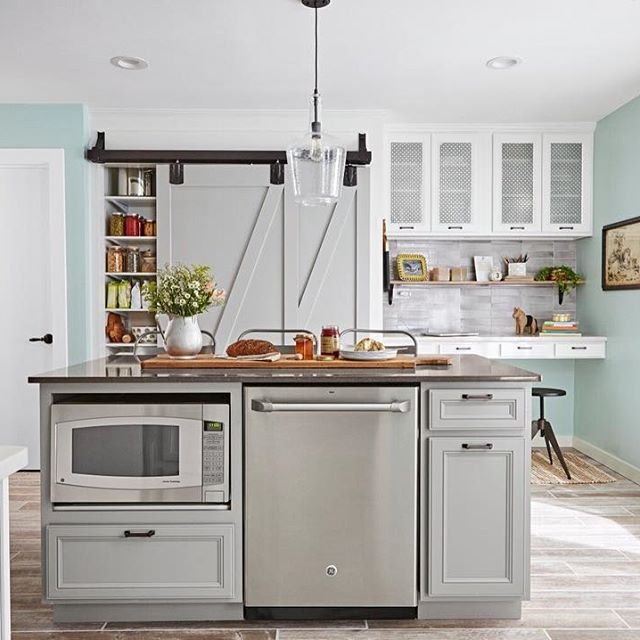 STOVES
Another issue we've run into in our rental is that we only have three working eyes on our stove. Again. For a food blogger that's just not ideal. I really, really, REALLY want a gas stovetop (great for canning) range. Ideally I'd like a double oven… but we're talking affordability right? I'll be happy with a single oven for starters!
STAND MIXER
From someone who loves to bake, a stand mixer is an absolute must. Since I'd love to have a 'minty' theme in my kitchen, I would really like to sell my current mixer and swap to one to match my dream kitchen. Certainly not a necessity, but would be a fun perk if possible!
SMALL APPLIANCES
Toasters and toaster ovens are crucial. Did you know that Steve and I don't use the microwave? OK.. well let me clarify. Steve never (and refuses) to use it, and I try to limit my usage as much as possible. Instead, we use our toaster and toaster oven!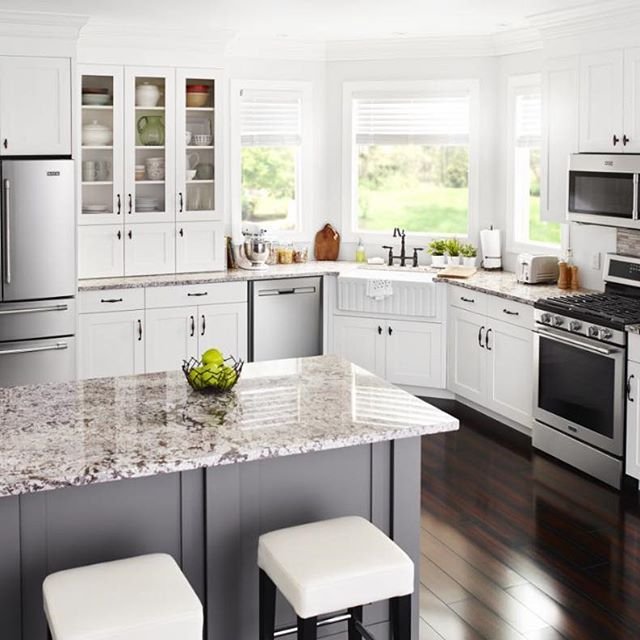 PAINT
Paint is such an easy way to spruce things up on a budget. You can add a little flair here or there for little to nothing with just a bucket of high quality paint. I'm in LOVE with the HGTV Home by Sherwin-Williams Mod Mint Allie that is shown in the picture below. It's so soft and subtle and so perfectly…. Tried and Tasty!
BACKSPLASH
Another great affordable way to make your space classy is to add a fun backsplash. This allen + roth Fossil Stone Brick Ceramic Wall Tile pictured below couldn't BE any more perfect! Don't you think it pairs nicely with the paint color? Honestly. This kitchen is dreamy!!!
HARDWARE
It's truly the little things that can make a place set apart from the rest. I am also in love with these hardware finishes and as I was perusing Lowe's website I was in awe at how many different options there were and how many were within our budget. Score!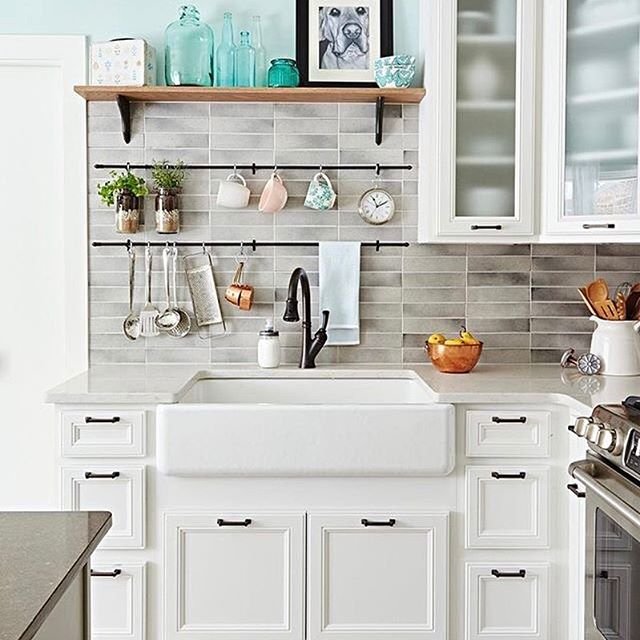 LIGHTING
There's something about pendant lighting that really draws me in. I love how it can be a centerpiece that stands out yet doesn't get in the way. Where functionality meets style. Because I'm a natural light junkie I don't know that I need to go too crazy with lighting, but I will need something for when the sun goes down obviously. I'm thinking minimal yet powerful?
FAUCETS
Do you know how many different faucets there are to chose from? I really think I want one of the pull-down kind. And I'm thinking I'd like a brushed silver or a pewter color. Also – did you know you can compare models on the Lowe's site? Can I just tell you how helpful that is? SO helpful!
KITCHEN ORGANIZATION
Oh gosh. Possibly my favorite category to look through. My middle name is organization. From cabinet organizers to draw organizers Lowe's has it all – and for such great prices! What would you think of a pot rack? We are constantly getting our pots and pans in and out of the cabinet I'm often wondering if it would just be easier to keep them out all the time?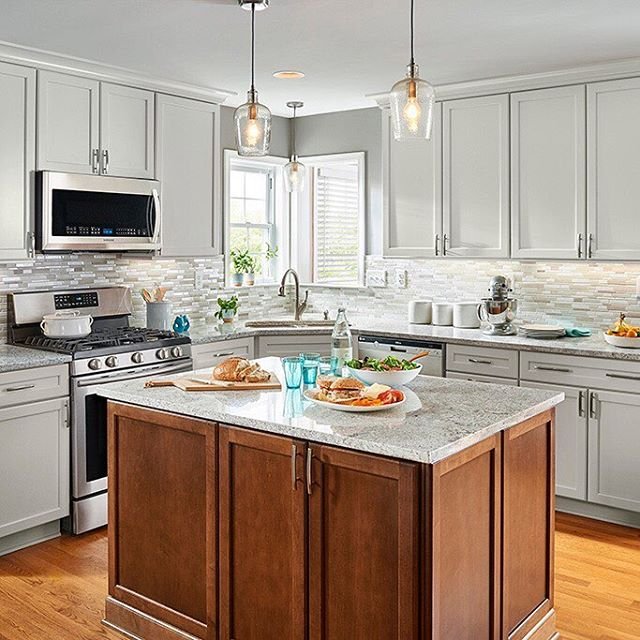 So that wraps up my idea of a dream kitchen that is both lovely AND affordable! Want help designing yours? Looking to purchase or remodel soon? Lowe's can help! They offer project specialists in-store who can help you every step of the way! Right now would be an excellent time to take advantage. Lowe's is having an up to 40% off kitchen and bath event until March 23rd. Don't miss out!
This is a sponsored post written by me on behalf of Lowe's.